HOMEPAGE From Athiest Cop to Christ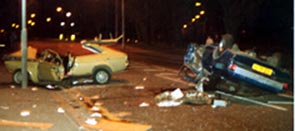 Latest Update:
New Sermons including written & audio. Full VideoTestimony.
New John Kennett songs
Banardo's Retreat Day Audio Talks
Blog


Miracles still happen, even raising the dead!
Having worked for many years as an Ambulanceman & Policeman in the Eastend of London I found it impossible to believe in God. That was until the Lord choose to reveal himself through suffering, the very thing that stopped me believing! After the accident shown above, I had to make a decision to let the doctors turn off the life support machine that was keeping my wife alive, I called out in desperation to the Lord & he heard my cry!
On this site I want to share my amazing testimony including photographic evidence of a miracle, as well as my ministry details.Just click on the links on the top left side of this page
(Warning one of the photos on accident photo page is of a servere facial injury however I include it as strong evidence of this miracle!)
You can read an abridged version or go to My Testimony Video page to view the full version recorded at Dagenham Community Church. Although my testimony is fairly long please stay with it. I'm sure you won't regret it!
You can read or listen to some of my sermons, any feed back would be appreciated.
Please do sign my guest book (bottom of page) or email me (use contact button provided on the left side). If you have any prayer requests or wish to pray for others, visit my prayer request page.
Listen to a selection of John Kennett's songs. He is a gifted Song Writer, Worship Leader & now the Pastor at Leigh Beck Baptist Church, Canvey. I have often worked with John at many venues.
Visit my Biblical Sites page where you can take a graphic journey to some of the Historical Christian places I have visted!
Place your testimony on my Other's Testimony Page!
You may notice there is no donation facility on my site because I have a faith ministry and God provides! Why not book me to speak at your church? I don't charge but sometimes travelling expenses are helpful if a distance is involved but not mandatary!
May the Lord bless you as you surf this site.